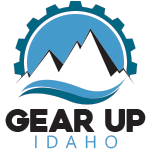 GEAR UP Idaho focuses on early intervention strategies to assist students in becoming prepared for post-secondary education. The program will help students meet standards necessary for high school graduation and provide them with the skills necessary to succeed beyond high school.
What is GEAR UP?
GEAR UP is a federal grant program focused on helping students reach their aspirations after high school. GEAR UP Idaho, operated by the State Department of Education, serves two full cohorts of students in over 25 schools throughout the state. Each GEAR UP school is provided with funding to pay for staffing and student activities that encourage career exploration, college awareness and life skills development. Marsing has one GEAR UP coordinator who will work with students to achieve the program's goals and plan services such as advising, parent nights, career fairs and other events.
Gaining Early Awareness and Readiness for Undergraduate Programs
GEAR UP provides an opportunity for your student to demonstrate the ability to succeed in college and the option to gain college credits while in high school.
GEAR UP differs from other college access programs in that it uses a cohort approach that works with entire grade levels and becomes a systemic vehicle for change and innovation.
This GEAR UP grant, beginning in October 2018, will serve the graduating classes of 2024 and 2025. Starting their 7th grade year through their senior year, the following activities will be an annual focus:
College Awareness

Career Awareness

Financial Literacy

STEM (Science, Technology, Engineering, Math)

Life Skills

Service Learning

Individual Planning

Parent Engagement
Coordinator: Trajan Morton – 208-649-5411 ext. 108
"Education is the passport to the future, for tomorrow belongs to those who prepare for it today."
– Malcolm X